The table in a more classic version with shaped and narrowed legs made of solid wood give it a unique appearance. The 40 mm thick top makes the entire structure very durable and will look perfect in the interior for many years.
Available extension options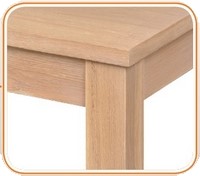 Leg flush with the table top is available for the table dimensions marked with


WENGE
NATURAL
LACQUERED
60 01
61 01
WENGE
NATURAL
OILED
60 02
61 02
White and black colour
dedicated only to wenge products.